Would you like to learn Scottish Country Dancing?
RSCDS Wirral Branch runs classes for Adults (beginners as well as those with some experience of Scottish Country Dancing) and Social Dancing (with instruction) - something to suit everyone who loves the magic of traditional Scottish music and dance.
As well as weekly classes, RSCDS Wirral Branch holds Social Dances - Christmas Dance, our Annual Ball in spring and a Summer Dance and our very popular Hogmanay Ceilidh. Follow the EVENTS link above for details.

For information about our classes for adult beginners or those with some experience of Scottish Country Dancing please follow the link to CLASSES.

Still not sure about Scottish Country Dancing?
Why not come along to one of our BEGINNERS' class sessions and see for yourself what Scottish Country Dancing is all about (your first night is FREE!) click click here for details.
END OF TERM PARTY NIGHT
All Branch members are invited to attend the Tuesday or Wednesday classes (3rd / 4th December) to celebrate the end of another term of fun dancing, but more importantly to celebrate the 30th Anniversary of RSCDS Wirral Branch (founded 1983).

As well as the dancing there will be a celebratory drink, nibbles and the presentation of a commemorative gift to each member attending.

Note: This year, the Tuesday Class also celebrates 34 years of unbroken success - well we did cancel one class when the snow was just too much!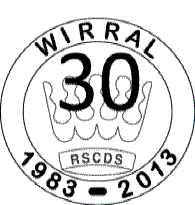 30 years on and still going strong!